THE HAPPY CAMPER
Colorado's Finest Choice for Recreational Cannabis
One Stop for Recreational Cannabis Near Bailey
The Happy Camper is Colorado's leading provider of high-quality recreational marijuana, cannabis-infused products, artisan goods and more. At our convenient Bailey location, our cannabis experts will walk you thought the process and help you choose the right products for you—without judgment or confusion. Plus, we offer competitive pricing and 10% OFF select items for veterans, law enforcement, Bailey residents, medical users, and seniors.
Shop our menus online, and stop by our Bailey shop to see The Happy Camper difference for yourself!
80 Rosalie Rd, Bailey, CO 80421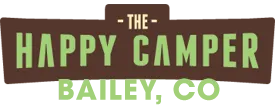 Find a token, get a gram for a penny!
We place a token in every 420th gram we package. Lucky winners can redeem it at any participating dispensary and pay just $0.01 for a gram of concentrate! Stop by today for your chance to win.
WHAT OUR CUSTOMERS ARE SAYING
FAIR PRICES
Cool place, cool people, fair prices.
-Colby
BUDTENDERS WERE SUPER NICE
Budtenders were super nice and prices were on point. I really enjoyed my pinot nova 🙂
-G Jr.
THEY HAVE YOU COVERED
Great prices, friendly staff and good variety edibles as well as flowers. . They also accept CannaPay to save you some cash on ATM transaction fees. Happy Camper sells seeds if you are looking start growing also. Need smoking accessories? They have you covered there too.
– Joshua
LOTS OF VARIETY
Lots of variety for edible brands and the staff is very nice, will give you recommendations any time. They have a 10% off coupon in the local paper and daily deals throughout the week.
-Casey
ABOVE AND BEYOND
Budtender Dan noticed the system splitting my points, and fixed it, on 2 separate occasions! Good weed, good reward system, above and beyond staff, thank you for making it a happy experience 🙂
– Healing Moon
The Happy Camper
Proud Member of
Contact Us to Learn More
Experience a Wide Range of Full-Spectrum CBD Products Online in Bailey, CO
As a cannabis user, we're sure you are looking for high quality products that provide you with the effect that you like to enjoy. If you are looking for the best dispensary in Bailey, CO, then look no further than the team at The Happy Camper. With over a decade of experience in providing our customers with a range of high quality products to cater to their way of life, we provide everything that you need to get the most out of your experience. We feature an outstanding range of THC edibles in Colorado designed to cater to your unique way of life.
THC Gummies and Concentrate Deals Near Me
At The Happy Camper, we are proud to provide our Bailey, CO customers with a range of THC products of premium quality. Enjoy convenience with a THC extract or concentrate deals, or try THC gummies packed with flavor that enhances your experience. We also offer concentrates, such as our THC tincture in a variety of strengths, or soothe the body with a THC topical that is great for everyday use.
Find THC Wax Near Me in Bailey, CO Today
The team at The Happy Camper is pleased to provide a wide range of CBD and THC products to customers in Bailey, CO. To find out more about Happy Camper online ordering, browse our extensive range online today, or give our team a call at (303) 816-0420.